LEARN CHARACTER DESIGN IN 10 MINUTES A DAY
ON-LINE LESSONS AND WEEKLY LIVE ZOOM

 MEETINGS
FOR BEGINNER, INTERMEDIATE AND ADVANCED ARTISTS
Bite-sized lessons with daily drawing challenges
     ⭐️⭐️⭐️⭐️⭐️
"I just joined 3 days ago and I already feel like I'm learning so much!" 
 Student- Emma White
Your Teacher: Stephen Silver
Born in London and currently residing in Los Angeles with his wife, Stephen Silver has been a professional working artist, character designer, and teacher in the industry for over 30 years. He developed intellectual properties for some of the largest media companies in the world, such as Disney, Warner Bros., Nickelodeon, Sony, MAD Magazine, Reel FX, Bento box, Hasbro, Universal, DreamWorks, and more.
Stephen is responsible for the visual character development and design of some of animation's most iconic shows; including Disney's Kim Possible, Nickelodeon's Danny Phantom, and Disney's Clerks: The Animated Series, to name a few.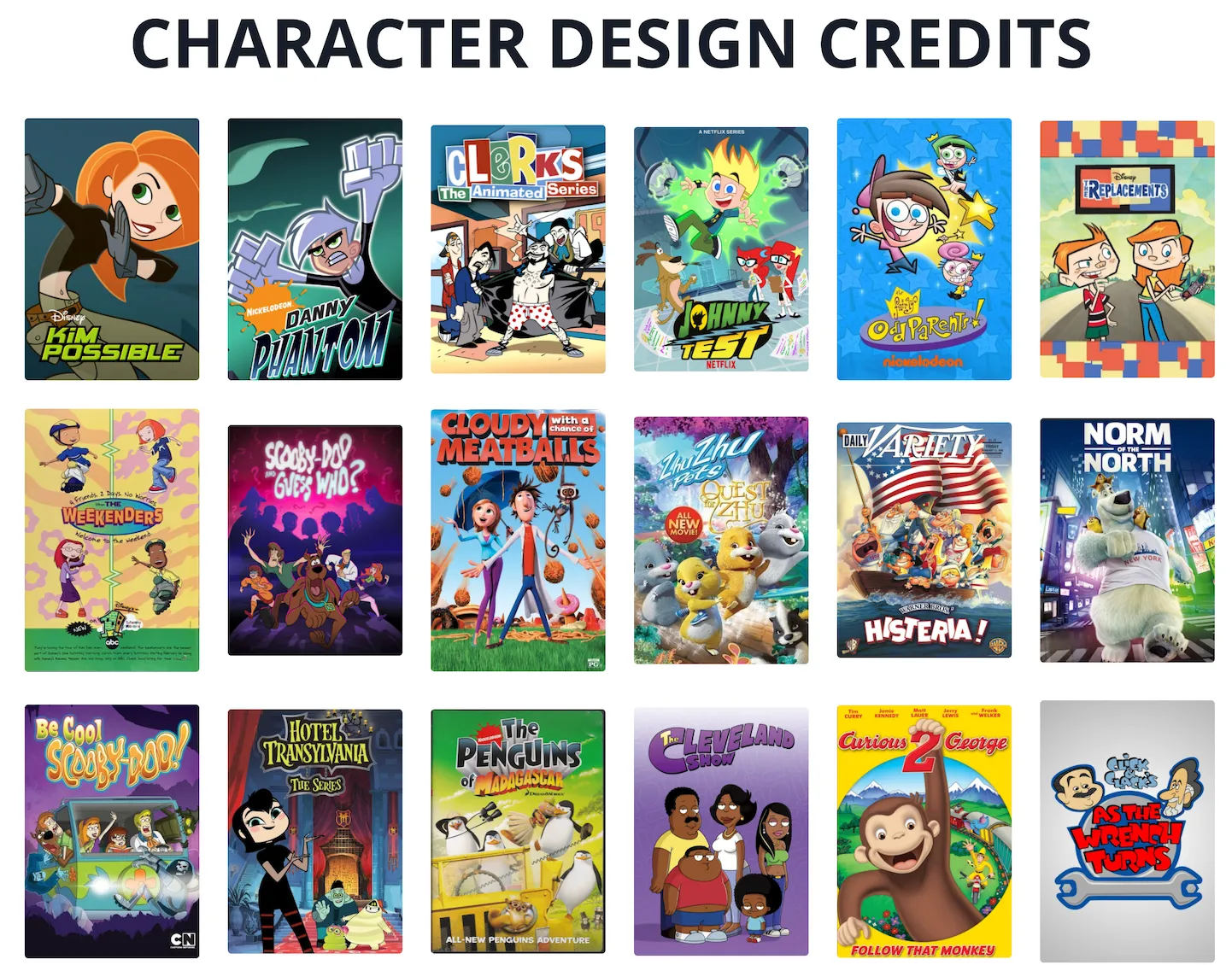 ⭐️⭐️⭐️⭐️⭐️
Josh Ohmes
"Since starting the classes, I've seen a huge improvement in skill, and confidence. I do highly recommend this online school for anyone looking to push themselves. Self teaching is good, but with structure. it helps to see fast improvement, plus the weekend drawing with stephen  drawing is a main reason to sign up."
⭐️⭐️⭐️⭐️⭐️
Ahmed Sidky
"SDA is a valuable learning resource if you're looking for an online art school that teaches easy to understand and practical lessons that you can apply instantly to improve your drawing skills. Stephen Silver is a genuinely outstanding teacher and is devoted to sharing his 30+ years of art experience, wisdom and techniques so you can grow as an artist."
⭐️⭐️⭐️⭐️⭐️
Juana Mool
"I watched a 4 minute lesson and after it, I was able to focus on the right things and catch the feeling of a pose for the first time in my life (I think), it also helped me to push things (which is something I struggle with). In a matter of seconds my drawings changed dramatically for the better, it's pretty insane. Go join if you can is worth every single penny."
WHAT'S INSIDE
1.

 The whole process! A step-by-step guide to character design creation.
2.

 Over 400 video lessons offering how-to's and challenges.
3.

 Each lesson is short and concise. 5 minute tops. Watch and draw!.
4.

 5 live meetings each month for accountability. Join me and the community to draw, reinforce and add more content to the lessons. Let's draw together and share our thoughts.
5.

 A worldwide, beautiful community! It's like a family but in a good way.
(Video lessons are under 5 minutes for concentrated learning)
 HOW IT WORKS
"I am really learning a lot and gaining valuable information even early on to the program. It is so mind-blowing!" - Jeni Francisco/ Member
Program Description
The program was specially designed to introduce students to drawing, character design, gesture, caricature, and the business of art. Students will learn industry-standard techniques for producing top-notch character designs and get the tools they need to begin a flourishing art career. This proven program builds confidence while inspiring students with new ideas and daily drills to help them grow.

 Program Objective
Upon successful completion of the daily drawings, you will be able to:
•  Push your ideas and poses
•  Gain insight into shape language
•  Create characters based off a description
•  Understand design fundamentals
•  Quick sketch from life
•  Break down and exaggerate the human face
•  Bring your characters to life using multiple techniques
•  Assemble an effective portfolio
•  Use new skills to become a studio or freelance artist
•  Utilize business strategies to create your own IPs
For Just $29 gain access to all the topics below
Take your character design skills to the next level and unlock your potential with these proven online lessons!
GET STARTED
Weekly Live Meetups
Join 5 live sessions each month to stay connected, motivated, and active. Ask me questions as we draw together.
"I want to thank you for all the amazing work that you are putting into SDA, it's been really a great experience for me and I have definitely seen an improvement in my work."
- Diana Luna / Member
Art Gym
Bulk up your skills with a daily drawing exercise routine. Art Gym provides the structure to fuel improvement. Use this drawing plan alongside the video lessons and witness your gains.
"Thank you so much for the critiques, it was so much help!, I already feel stronger about my skills."
- Dwayne Biddix / Member
Mindset
Develop a creative mindset and learn how to organize a clear path to your art career goals during these encouraging and thought provoking sessions.
"Stephen gave me the tools to improve my drawings, lessons that I still use today."
- Bobby Pontillas / Art director
Beginning Techniques
Whether you're a beginner or seasoned professional; this is a great place to start. Get an exciting refresher on the fundamentals.
"I definitely learned a lot in these lessons! The skull is so simple, yet has always been something I've struggled with and avoided. This broke it down in such a great, easy to understand way I feel like I could draw them no problem now!
- Phillip Rauschkolb / Member
Drawing Heads
Learn how to construct and draw the human head in a variety of styles, angles, and shapes
"I Love the fact that your site allows each lesson to be marked complete, It helps me organize the lessons I have already worked on."
- Erica Bey / Member
Gesture
Add life and energy to a range of poses. Discover how to observe and capture movement in any drawing you create. These techniques can be applied to animation, illustration, and more.
"I watched a 4 minute lesson and after it, I was able to focus on the right things and catch the feeling of a pose for the first time in my life."
- Juana Mool / Member
Party Caricature
Sharpen your observation skills and learn how to break down a face, accurately capture likeness, and produce studio quality caricatures. Become equipped to take on freelance work.
"I've taken a lot of classes online for art throughout the years and these courses have progressed me more than all the other ones combined."
- Theodore Fergason / Member
The Silver Way Overview
Access video lessons reviewing the core principles of The Silver Way, one of the top ranked books on character design. Receive step by step breakdowns of concepts outlined in the text to reinforce what you've read.
"You Learn the ropes around art techniques, the art business as well as the right attitude for success."
- James Francis / Member
Developing Characters
Discover industry standards for character design; including clean-up, turnarounds, lineups, expression sheets, and more. Design an array of characters in different styles. Understand what you need to show potential clients in order to get work.
"The short video format works perfectly for me as a father of 2 daughters and a full time job."
- Ka Yin / Member
Drawing Animals
Watch as I break down animal shapes and explain my methods. Learn how to find the character in references and explore different art styles as the course progresses.
"You've truly created something amazing and I was overwhelmed at the amount of high quality content on offer."
- David Woodgate
Drawing Drills
Explore daily drawing drills specially designed to polish observation and drafting skills while boosting confidence.
"I've seen a huge improvement in skills and confidence."
- Josh Ohmes / Member
Character Drawing Prompts
Do you struggle to come up with character ideas? This category will help by providing innumerable suggestions for you to draw.
"SDA is a valuable learning resource if you're looking for an online school that teaches easy to understand and practical lessons that you can apply instantly to improve your drawing skills ."
- Ahmed Sidky / Member
Resources
Utilize our library of handpicked reference websites, drawing exercises, animation resources, and more.
"This site is filled with hundreds of short and positive drawing tutorial videos. It's great for busy people who may only have a few spare minutes per day to sketch."
- Matt Watts / Member
GET STARTED
8 Week
Instructor-Led

 Fundamentals Of Character Design Course

Next Semester Begins 
September 20th 2024
"This course has been one of the best investments I have ever made. Right from the end of week one I saw improvement in my drawing that has continued to progress over the course of the eight weeks that I have taken the class. I have learned a tremendous amount, seen my skills improve, and have been encouraged by taking this course. I highly recommend taking it to anyone who wants to learn character design or for designers, like me, who want to improve and be better at their craft."
Tad Butler/ Member
⭐️This is a separate program from the Character Design Program.⭐️
LEARN MORE
What is Character Design?
What makes good Character Design?
Are these courses good for beginners?
How does the Character Design Course differ from the Self-Paced Character Design Program?
How do I cancel my membership?
Get
FREE

access to my weekly Art Talks by joining the SDA newsletter today!
SUBSCRIBE
Get art tips, learning opportunities, and special offers sent straight to your inbox. These Art Talks will inspire, encourage and help guide you in attaining your goals.